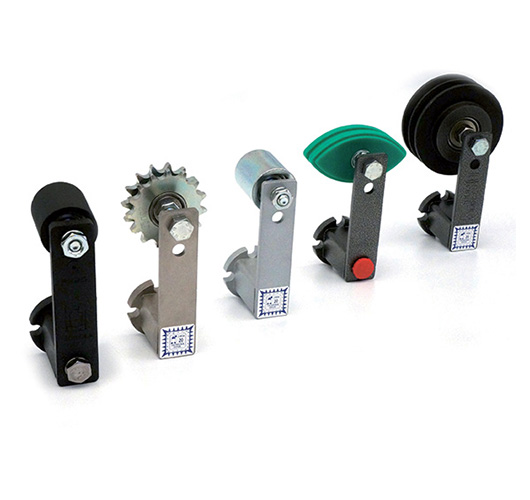 From its attention to customer needs and in the perspective of service excellence, SATI now offers the market a new product that is MADE IN ITALY: TENSIONERS.
These components, simple in structure and use, are characterised by their great elasticity and ability to absorb impact, shocks, vibration and oscillations. The various applications all use the same operating principle: the elastic deformation of four cylinders made of natural rubber, placed in the spaces obtained from the mating of two elements with a square section, rotated to each other by an angle of 45°. The cylinders are made of natural rubber. The maximum permissible torsion angle between the two square sections is ±30° and is inversely proportional to the frequency of the oscillations.
The tensioners are used in chain or belt transmissions not only to keep the flexible element taut over time but also to absorb the vibrations created in the mechanisms, ensuring smoother operation and thus increasing the life also of the other components of the machine. All the elastic elements in this catalogue work in a temperature range that may vary between –40°C and +80°C, and in any environmental conditions.
On request we can supply elastic elements coated with a zinc-plating treatment. For outdoor applications, in contact with moist agents, or in the food or pharmaceutical sectors, we can supply our products made entirely of plastic. For applications with temperatures of up to 300°C or with limited overall dimensions we can provide products made entirely of galvanized steel.
All our tensioners can be equipped with numerous interface kits: polyethylene sliding blocks, polyethylene rollers, sprockets and rollers made of galvanized steel or plastic.