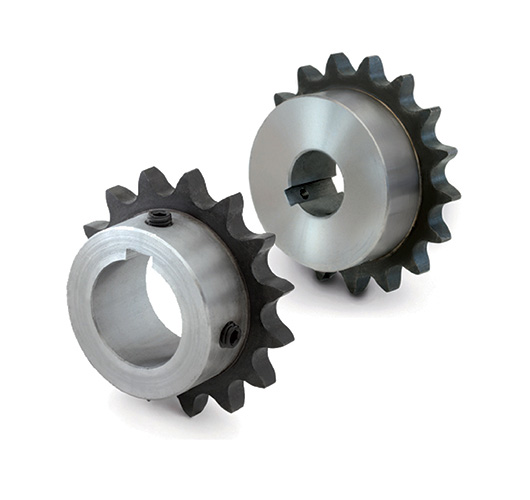 As a result of the evaluation of the past selling records, Sati – for several years on the national and international market with a complete range of power transmission products – has come across an increasing demand of items with special features such as bore with H7 tolerance, UNI keyways and set screws.
With this idea, the company wishes to introduce into the market a new range of special items available on stock, meaning a substantial saving for customers in terms of machining costs required, which are often difficult to quantify. The possibility of having the "SPECIAL STANDARD" ready on stock represents our strong point in terms of service, and implies quick deliveries and competitive prices in large as much as in small quantities. What is more, all the variations meet one single interlocutor in the final test reserved to the piece.
Here following the complete range of products is showed, according to pitch and relevant chain.
3/8"x7/16" (ISO 06B-1)
1/2″x5/16" (ISO 08B-1)
5/8"x3/8" (ISO 10B-1)
3/4″x7/16" (ISO 12B1)
1"x17,02 mm (ISO 16B-1)
1"1/4×3/4" (ISO 20B-1)
Different teeth numbers and bore diameters are available for every pitch, according to the various mechanical applications. Sati has passed all tests laid down by ISO 9001 and all the products are according to din regulations, such as DIN 8187; DIN 8188; ISO/R 606 and ANSI B 29.1. The material used for our " special standard sprockets" is steel c45 E according to UNI EN 10083-1 regulations.