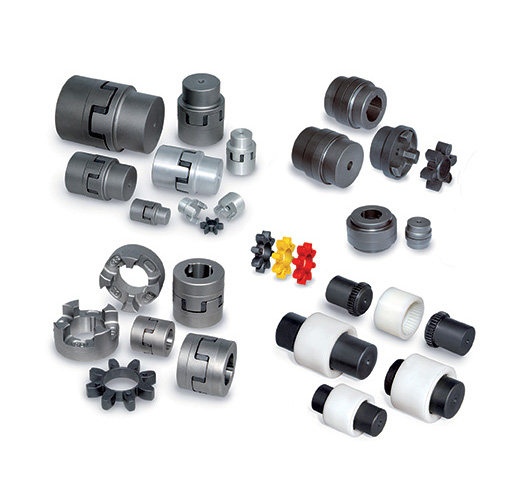 Torsional flexible couplings are divided in 3 families:
Toothed couplings with pa sleeve
Flexible gear couplings SG series are commercial couplings for general purpose, featuring high quality standards as well as technical characteristics and performances which are peculiar of industrial couplings.
From a constructive point of view flexible gear couplings are made of two symmetric steel hubs and a synthetic resin sleeve ensuring connection and power transmission between the two hubs.
The relative resistance of the polymer to outside humidity and its capacity to endure temperatures between -20°C and +120°C, with short peaks up to +150°C, make the coupling ideal to bear heavy working conditions even in adverse environments.
Toothed couplings with pa sleeve offer following advantages:
Compact design, reduced weight and moment of inertia
Constant-velocity movement
Noiseless running, elastic damping of shocks and vibrations
Resistance to the most common chemicals and to moderate heat, max 80°C
Self-lubricating, nonconductive and maintenance free
Reasonable price, easy to mount, suitable for multiple duties,
even the heaviest ones.
Torsional flexible couplings
The design of flexible couplings is characterized by two cast iron hubs having each stubby protrusions around their perimeters pointing toward the opposite hub. The two hubs mesh loosely together, and the gaps between them are filled with blocks of elastomeric material, moulded into an asteriskshaped element called "spider".
Couplings are elements connecting two rotating shafts, and beyond transmitting power from one shaft to the other they perform the following functions:
Ensure a torque transmission free from shocks by damping any torsional vibrations, either due to load or self-induced
Minimize torque shocks and peaks at a starting phase
Compensate for slight angular and parallel shaft misalignments.
In order to guarantee all above performances at a superior quality level while ensuring good service life, Sati chooses only the best materials and arranges for accurate processing and faultless quality control.
In basic execution, the operating temperatures range from 40°C to +125°C, allowing for short peaks up to 150°C.
For use in extreme working conditions or simply above standard, special compounds have been studied to cope with any type of practical application.
The great advantage of flexible couplings lies in their "failsafe" design, as the coupling is not necessarily destroyed if the spider breaks away during operation. The system will continue to function in safety conditions, preventing critical system downtime, and the spider can be replaced later on. Flexible couplings are generally recommended for continuous-duty electric motor-driven machinery, pumps, gearboxes etc.
SG-HRC couplings
SG-HRC Couplings are couplings for general application with a flexible element which can counterbalance higher degree of misalignment:
Parallel misalignment up to 0.5 mm and Axial misalignment up to 1.7 mm.
Because of their superior design HRC couplings can fit larger shafts which make them a very interesting product.
Salient features
ECONOMY


The design of the coupling has been optimised so that power capacities are balanced to the appropriate shaft diameters utilising Taper-Lock® Bush fixing.

RESILIENCE


Transient peak loads are reduced by a flexible component, deflection of which is a prime design
consideration.

MISALIGNMENT


Incidental parallel, angular and axial displacement of the connected shafts can be adjusted.

INSTALLATION


Quick and easy without special tools, only an allen key is required.

MAINTENANCE


Virtually eliminated and no lubricant is required.

ENVIRONMENT


The elastomeric component makes coupling suitable for use in most conditions within a temperature range of -40°C to +100°C.

POSITIVE


In the unlikely event of the flexible component being destroyed, the drive will be maintained by the interaction of dogs which are integral with the flanges.