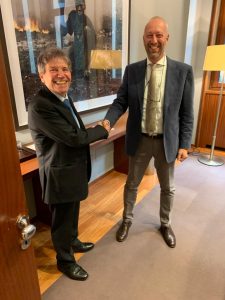 SATI becomes part of a big international group, the great Italian Megadyne company, having a long tradition in the manufacturing of belts and owning several plants around the world.
The Megadyne Group has a well-established network of subsidiaries worldwide. The integration of our transmission products in their existing range will generate a real comprehensive portfolio, able to respond to customer's demand even more satisfactorily than today.
Great industrial potentials and strong business synergies will arise from the joining of Sati and Megadyne Group. Our goal is to ensure future growth perspectives for Sati, that will keep investing on high quality service combined with the enormous potentials of Megadyne, in Italy and abroad, to improve its processes and achieve new markets jointly.
The Rambaldi family, after the "first" 45 years, will remain at Sati and will keep managing it in collaboration with the Megadyne Group management, thus achieving a greater economic and commercial strength that will enable the company, and all its employees, to grow further and become a major actor on the international stage.